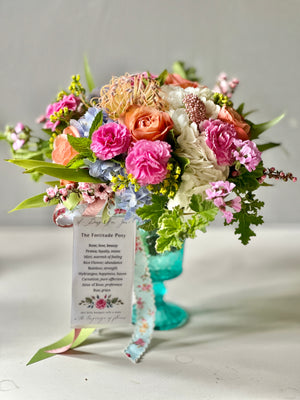 The Fortitude Posy
Sale price Price $130.00 Regular price
A little bit of fortitude goes a long way, and this posy will carry one through some tough times, yes, but it's also the perfect posy to send cheer and uplifting sentiments to someone who needs a little boost.  This is such a gorgeous posy with lovely colors--some that pop and a little softness too.  It has so much character and meaning, and it's always been a best-seller for us.
Measures approximately 12"h x 11-12" diameter.
Arrives fully dressed with ribbons and sentiment tag, set in a beautiful glass goblet.
PLEASE READ **
Please indicate your preferred shipping date at checkout, in the NOTES TO SELLER section.  If you do not do this, we will ship your posies at the earliest available date
Due to the nature of cut flowers and the uncontrollable act of inclement weather and other occurrences that affect flower availability, we may have to substitute some of the flowers.  If we do, we can assure you that your posy will still be beautiful, and still reflect and convey the overall meanings in the language of flowers as described and seen in the pictures and descriptions