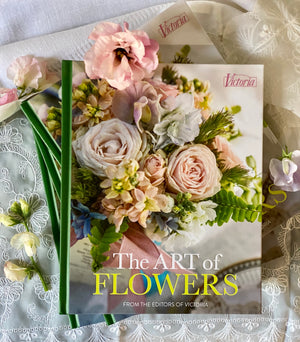 The Art of Flowers, by the editors of Victoria
Sale price Price $30.00 Regular price
A book of pure, glorious floral pageantry, The Art of Flowers features three-part sections offering insights and stories, including my own.  Packed with page after page of bountiful blooms it is an inspiring walk into the lives of women who have made a living with flowers and gardens.  The are writers, painters, businesswomen. But most of all they are lovers of flowers and gardens.  
Take a look at the beautiful cover--it's a posy made by me!  I am in such wonderful company inside with my story and the story of other visionaries in the world of flowers and gardens.
The book is beautifully bound and pure bliss to read. It will make a perfect gift for anyone who loves flowers and gardens.